What is the main feature of Google+ that stands out?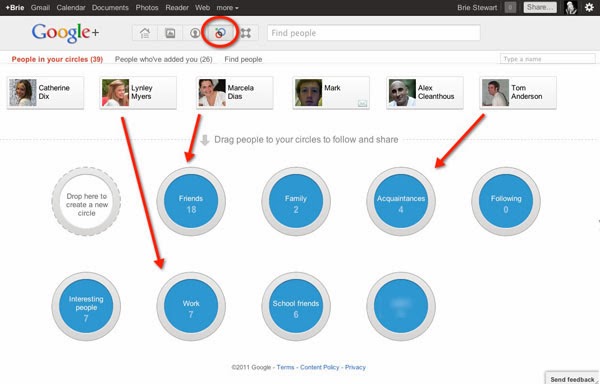 Posted on January 17th, 2014
First you may ask, what exactly is Google+? Put simply, it is a much cleaner way to share data with others on the internet. It is similar to Facebook, but includes features like hangouts, circles, communities and ripples.
With all of the social media sites out on the internet today, it can seem overwhelming to decide to branch out from Facebook. However, one social media site that many seem to overlook is Google+. It is the second largest social media site after Facebook, with over 540 million active users as of October 2013. That being said, many people are still not familiar with this new social media site.
That is where we begin. Those who are currently on Google+ are the trendsetters of the social media world. They are familiar with the benefits in SEO creating a Google+ page offers, and are already recognizing the benefits of becoming accustomed to the layout and features of the site. That way, when the rest of the world jumps on board with the idea of another social media site they will be there, ready to spread their ideas.
Google plus allows you to join communities as a brand, which is especially beneficial for businesses. Google+ serves as a valuable outlet for B2B, something that Facebook does not measure up to. Google+ is also more useful for marketing to the male demographic. Not only does Google+ have a more professional look and feel than Facebook, but it also includes convenient organizational features.




Circles are the main feature of Google+ that really give it an edge. They allow you to segment your friends into certain categories in order to organize your feed with the content you are interested in. Your feed will no longer be clogged up by your friends posts when you're searching for information that is relevant to what you are doing at work.
Circles also allow you to target your posts to a specific audience. If you are posting about work related information, you can post to your work circle. If you want to post something personal, then post to your friends circle. You now have a way to easily filter your own content out to others as well.
Currently on our One Loyalty Network Google+ page, our circles are segmented by informational category which include: News, B2C, Social Media, Marketing, Mobile Marketing, SEO, Rewards Cards, Blogging, Infographics, and Merchants. If I click on the social media circle, different posts about social media will appear in my feed.
My biggest tip for Google+ is to simply segment your circles as you add people or pages. The more you organize who you have added the more useful Google+ will be to you.
Add us to your circle on Google+ https://plus.google.com/u/0/b/102182571425582821102/+Oneloyaltynetworkmembershipprogram/posts
Visit us at http://www.oneloyaltynetwork.com/ and like us on Facebook https://www.facebook.com/oneloyaltynetwork